'Sace x O'Ryan litter 9-1-2011
Sire: Int.l/Nat/l Ch. Chris Ti Rising To Glory CGC
Dam: One Ash Just 'N Style
Whelped: 9-1-2011


One Ash Just 'N Style "'Sace"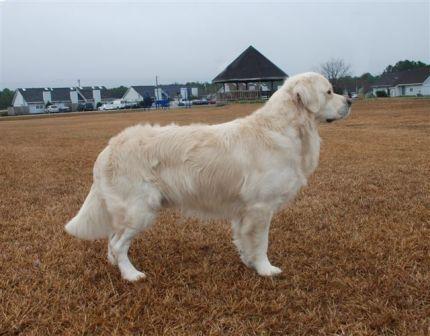 Int.l/Nat.l Ch. Chris Ti Rising To Glory CGC "O'Ryan"
Achievements:
 

Puppies from this litter are in their new homes  and doinf very well. Thank you to the wonderful families that chose to become, and were accepted, as members of the Quapaw clan.
The theme for this litter was " Some Kind of …….."
http://www.k9data.com/fivegen.asp?ID=443829
This is the link to the litter's full pedigree in k9data data. I will be entering them individually as I have time to do so. All were sold on limited registration and will neutered or spayed as the case may be. From there you can click onto both parents which will take you to their own pages, as well as those behind them.
Both parents have all clearances:
O'Ryan: OFA "Good"
Eyes: CERF certificate
Heart: Clearance
Elbows: Rt: grade 1/ Lt: Normal
'Sace:  OFA "Excellent"
Eyes: cleared by board certified eye specialist
Heart: Cardiologist cleared report
Elbows: Normal
This litter exhibits the exceptional temperaments, and outstanding structure/movement that we have strived for in the 30 years since Quapaw's inception.. I expect they will also prove their working/performance ability (Maximus and Trooper are in homes with children that have an interest in these areas and one which we will be encouraging), as well as beautiful babies to be proud of.  We expect the puppies from this breeding to hold to  the standards Quapaw set forth 30 years ago as to health and longevity, as well.
'Sace will now take the place of her deceased buddy, Biskitte, and share main house privileges with Gabe and the two resident mousers: Callie and Salem. 🙂
O'Ryan has proved himself with this litter as a good producer and I would recommend him to any breeder looking for a stud dog that blends well with your lines as well as with type.
Pedigree of "'Sace x O'Ryan litter 9-1-2011"

Parents
GrandParents
GreatGrandParents
SIRE

Int.l/Nat/l Ch. Chris Ti Rising To Glory CGC     

Erinderry Harry Potter of Ventess

 Eng./Irish SH. CH. Erinderry Diamond Edge Of Glenavis
Ir. Sh. Ch. & Int. Ch. Erinderry Firebird
Chris Ti Timeless Treasure
Chrys-Haefen Magnum Force
Scarholme Lilly Marlene

DAM

One Ash Just 'N Style

Can. CH. Camrose Just Jorgio
Eng. SH. Ch. Stanroph Soldier Boy
Camrose Betony
One Ash Arden of Hunts
Can CH Haydene Commador OS
One Ash Emma