Quapaw's Hey Soul Sister 2013 litter
Sire: INt'l/Nat/l Ch Chris Ti's Rising to Glory CGC
Dam: Quapaw's Hey Soul Sister
Whelped: 2-1-2013


Quapaw's Hey Soul Sister- "'Retha"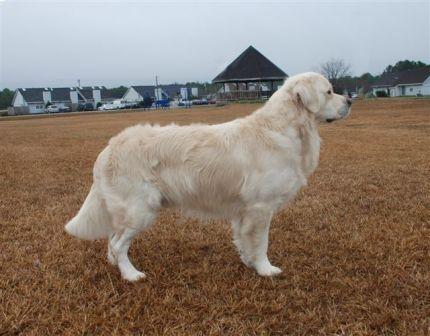 Int'l/Nat'l CH Chris Ti's Rising to Glory CGC- "ORyan"
Achievements:
 

This litter is the "Rain" litter. It is a linebred litter and has produced very exceptional qualities in temperament, intelligence, as well as structure.  There are 10 in this litter with an even split of 5 girls and 5 boys.
2nd pick male, "Percy" aka Quapaw's Fire N Rain owned by Mali in Alaska is now a full fledged service dog for her!!! He passed the Public Access Test on 12/27/2013. We are so very proud of these two. See more on the "N the Limelight " page.
Reports are coming back as to how quickly this litter is learning. "Gibson" the pick male is the youngest in his puppy class but is outshining all the other puppis from what I am told. He will become a therapy dog who also does performance events (agility and obedience). He has recently completed his CGC and is now working on advanced CGC work toward his therapy dog status.
Oryan produced a very nice litter last year with my 'Sace (One Ash Just N Style) which is one reason I decided to go with him for 'Retha's first litter.  It has proven to be a good choice.
Both 'Retha and Oryan have all clearances: hips, eyes, heart, and elbows. Here is a link to the pedigree on k9data for a more in-depth pedigree:
by clicking onto the sire and dam's names once there you will be taken to their personal pages and will see their clearnace information.
 Litter mates:
Quapaw's Chasing Rainbows "Rain"  (Wood/Quapaw)
Quapaw's Rain Maker "Gibson"         (therapy,obedience,agility)
Quapaw's Honeysuckle Rain "Honey"
Quapaw's Kentucky Rain "Elvis"
Quapaw's Rain Check "Gromit"         (therapy/companion)
Quapaw's Over the Rainbow "LuLu"
Quapaw's Raindrops N Roses "Heidi"  (therapy/companion)
Quapaw's After the Rain "Lucy"
Quapaw's Come Rain or Shine "Drew"
Quapaw's Fire N Rain "Percy" (certified service dog)
Pedigree of "Quapaw's Hey Soul Sister 2013 litter"

Parents
GrandParents
GreatGrandParents
SIRE

INt'l/Nat/l Ch Chris Ti's Rising to Glory CGC     

Erinderry Harry Potter of Ventess

 Eng/Irish Sh CH Erinderry Diamond Edge of Glenavis
Irish Sh Ch/Int'l Ch Erinderry Firebird
Chris Ti Timeless Treasure
Chrys-Haefen Magnum force
Scarholme Lily Marlene

DAM

Quapaw's Hey Soul Sister

Int'l Ch Swanavly's San Gabriel d'Quapaw
Int'l Ch Ritzilyn Chancellor
Int'l Ch/Yu Ch Deerfold Silver Promise
Int'l/Nat'l JHA Countrylane's Tender Soul
Can. Ch Haydene Commador OS
Int'l Ch/Can Ch Verdoro's Countrylane Runabout
Gallery for Quapaw's Hey Soul Sister 2013 litter