Presents
One Ash Just P-Arden My Kisses
Sire: Can. Ch Camrose Just Jorgio
Dam: One Ash Arden of Hunts
Whelped: June 30, 2007 — November 28,2007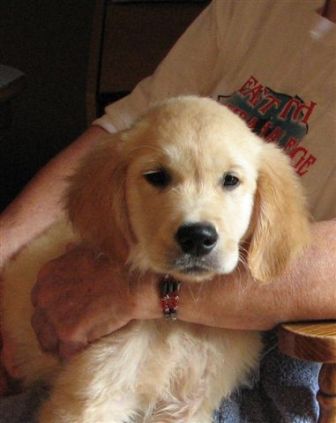 Rosalea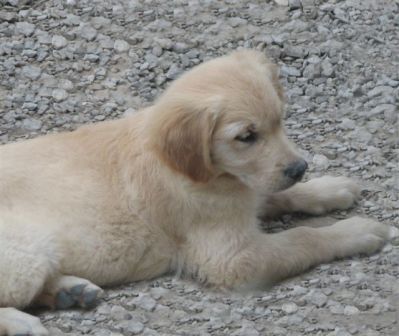 Rosalea 10-2007
Achievements:
 

I was so excited when I learned that I had a new arrival…….ONE ASH JUST P-ARDEN MY KISSES………aka………ROSALEA was coming to join my family at Quapaw.    Her coming was a total surprise to me, but one that I was (and am still)  so very grateful for.  She came to me via Suzi Houtz (Countrylane) and Elaine Brent (One Ash), two very dear friends.    Both Elaine and Suzi felt she belonged here with me for two reasons…….(1) she is a Justin daughter and they know how much Justin meant to me and how much I loved him, and (2) both felt she looked liked a Quapaw bred bitch……she has the "Quapaw Look".  And they were right on both counts. 🙂
Suzi surprised me by registering Rosalea for me, post mortem, as above receiving this name from Justin, her sire, and Arden, her dam.  I cried when I received her papers in the mail.  I was hoping that she would be Quapaw's second foundation dam and would be able to not only fill Kissa's paw prints, but also surpass them in many ways. Therefore, I wanted her registered name to also carry "Kiss" in it, as did Kissa's.  Her call name, ROSALEA, was my great grandmother's name.  But there is a story behind all of this (there always is, if you have been reading my other pages); everyone that had met or seen pictures of ROSALEA had said how sweet she was or looked to be..  I kept hearing this over and over so I first thought of calling her "Sugar" as my great grandmother, being a Southern Texas lady, used to say to my sister and I , "Give me some sugar" when she wanted a kiss, thus came to be my choice for her registered name.  I found "Sugar" too difficult to say over and over so went to my mother and asked what my great grandmother's name was (as we always referred to her as "Great Grandma Smith").  When she told me, ROSALEA, I knew that was to be her name and it fit her so well………….well, that and, "Puppy Gone Wild"!! LOL  Poor Biskitte and Gabe…….and especially the cats, Callie and Salem,…….their quiet world had just been "shattered" by this whirl wind in their midst. LOL  Don't believe a word……..they loved her and the havoc she caused. 🙂 ( wink) Rosalea was Gabe's shadow, never leaving his side more than 10 feet, always keeping an eye on him or Biskitte (or me when I was out with them), which is why it will always puzzle me as to why she failed to be his shadow the eveing she left forever.
I had planned her debue to be at the White River GRC Specialty in May 2008.  Her  movement was exquisite…………to die for!!  Her personality was that of "Watch me, I am the only puppy that is worth looking at"………boy did she ever remind me of Kissa!!  I was so looking forward to the excitement of showing her and winning with her, and planning for the future babies she would have…………now that is all gone……all at the Rainbow Bridge with her.
Her pages contain photos of her young life from beginning to near the end. The last picture of her I have is forever etched in my mind…….lying on her side facing home in a walking position……….it almost looked as if she were trying to come home when she collapsed after being struck by a car.  Someday I pray this last photo will melt away.
I lost Rosalea because of the negligence of an utility worker who came onto my property without informing he would be there that day. This was the second time in 4 weeks that a  utility worker (same company) had left this very same side gate open and unlatched. The first time, I discovered Gabe, Biskitte and Rosalea out front before any harm could come to them. This second time this man opened the latched gate and left leaving the gate unlatched and open.  I came home from work late, turned Gabe, Biskitte and Rosalea out while I changed my clothes and checked my email quickly. The next thing I know (within 15-20 minutes of me turning them out) my neighbor is knocking on my door. Biskitte is with him, Gabe had gone around to the back door (the one he alwasy goes in and out of), but Rosalea was not to be found nor had been seen with them.  We searched nearly all that night for her……friends, and neighbors who I had never met, donned coats and helped me to look for her. Many continued to look for the next week for her.  Finally, two weeks had passed, with hundreds of posters up, emails sent out, letters to churches, vet clinics etc….no place was left without a flyer in a window or in car and van windows……I wanted her back. I posted a $1000 reward hoping that maybe school children would search extra hard for her……..I wanted her back so much.. So many people prayed for her……I enlisted the help of an animal communicator who, along with Gabe's help, was able to communicate with Rosalea. The one image  Rosalea kept sending to Diana was the feeling that she was close by…….always close by. With no sightings of her we all figured and prayed that someone had picked her up and lived close by……and we prayed….. and prayed…….for her to be brought back home to me safe and sound…..and prayed……..finally I received a call on Friday evening. I returned the call. The woman said she knew where my baby was. She was crying. Something deep within my heart told me later most likely this was the person who had hit her that night I lost her. She came to my house. I followed her to a ditch ( many of us had driven by this ditch so many times yet she lay so deep in the grass that only a few inches of her back were showing, which is why I feel strongly this person knew she was there after seeing one of the flyers) not 100 yards from my door.  There, lying deep down in the grassy ditch with the snow beginning to gently fall  upon her lay my sweet Rosalea.  She appeared to be frozen in time…..frozen in a walking position as if she had suddenly just fallen over……..she looked as if she had been trying to come home, as she was facing in the direction of my house………  All our prayers…….all my prayers asking for her to be brought home to me safe and sound…….be careful what you pray for …….God had kept her safe for me (frozen against predators)………and sound (not a mark on her anywhere)……….and He did bring her home…….only to His home…..The Rainbow Bridge………. not mine.
It has taken me a long time to be able to write the rest of Rosalea's story……..an ending that I was never prepared to write, nor ever thought was possible to have to write.  So many dreams left with Rosalea……she brought me such joy and happiness in the few short weeks she was with me. She will always remain in my heart and soul.
There is only, and  always will be,  only one Rosalea…………….
*** Rosalea's breeders and I are in the process of creating a foundation in her name: Rosalea's Guardian Angels. The main purpose will be for the education  and prevention of such negligence happening to others, as well as the long term goal being to set up this foundation as an umbrella for helping others find and recover their lost pets quickly. When we finally have things in place  we will have a website that this page will be linked to for more information concerning this foundation.***
***Thank you to everyone who did their part in helping Rosalea come home to me. You can never know what your prayers, support, caring,  and compassion for us has meant to me. You will always have a special place in my heart.***
Pedigree of "One Ash Just P-Arden My Kisses"

Parents
GrandParents
GreatGrandParents
SIRE

Can. Ch Camrose Just Jorgio     

Eng. SH CH Stanroph Soldier Boy

 Eng. CH Paudell Easter Plantaganet at Kerrien
Stanroph Silent Tears KCJW
Camrose Betony
Linchael Titan of Camrose
Camrose Lilian

DAM

One Ash Arden of Hunts

Can CH Haydene Commador OS
Eng. CH Paudell Easter Plantaganet at Kerrien
Rossbourne Secret Love of Haydene JW
One Ash Emma
Can. CH Braecon Beacons CD TDI CGC
Camrose Olivia
Gallery for One Ash Just P-Arden My Kisses