Presents
Am Ch Parkewood's Win-Taf Kiss O' Gold, CD, OD
Sire: Am Ch Parkewood's Sir Winston
Dam: Parkewood's Taffy
Whelped: March 16, 1982

Kissa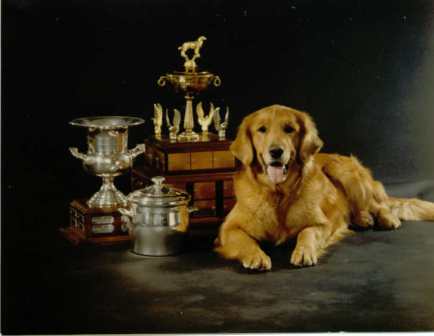 Kissa w/WRGRC trophies – 3 years in a row: Top Bitch, Top Amateur Handled, Top Conformation Dog
Achievements:
 

KISSA……….What can I say………and where do I begin……….a once in a lifetime girl………the foundation of Quapaw……..you ARE and ALWAYS  will be QUAPAW………without  you, KISSA, Quapaw would not exist…………this website would not have ever gotten off the ground……..I would not be who I am today………..nor have the many wonderful Golden friends I have today, nor in the past……….how do I do justice to you…….how do I make others KNOW you as I know you?  An impossible task before me, but I shall do my best to do your memory and what you represent to me and many others justice.  Even now, nearly 25 1/2 years since you came into my life and nearly 10 + years since you left me, I can feel my eyes begin to fill with tears and feel the lump in my throat ………..oh how I miss you……..even now…….you STILL and ALWAYS will be a very  important part of my life, heart, and soul.
KISSA, YOU ARE THE HEART AND SOUL OF QUAPAW.
I suppose I should start at the beginning, with a preface to our readers to forgive the length of  our story, but to shorten it to a few words and accomplishments is not what you deserve.
 RoseAnn Parke, Kissa's "breeder", told me about two litters coming up (I had gotten my first golden from her and now it was time for that special little girl to be added that would also be my  first show girl). RoseAnn was the actual breeder of one and she had bred both sire and dam of the second, the dam being  in a companion home (so, to this day I consider RoseAnn Kissa's breeder).
One weekend I thought I had better run over to Indianapolis (I was living in Terre Haute still at the time) and place a deposit down, as I thought the puppies would be due very soon. When I got to RoseAnn's, a good friend, Sarah, who had introduced me to RoseAnn  several years earlier, was also there.  RoseAnn then informed me that her own litter had not materialized and that she was calling the other people to let them know she was bringing me over to get a puppy. Well, RoseAnn got off the phone and told us there was no time to waste as some people who were only interested in a pet puppy were also on their way and she wanted to be sure I got the first pick. I do not think I have ever seen RoseAnn drive so fast in my life!! LOL  We arrived and went out to the backyard where the puppies were all running around having a great time. (To this day I do not even remember being introduced to the owners, which I am sure I was but…… )
Sarah immediately sat down in the middle of the yard and I planted myself under a large tree. We were both playing with puppies (I forgot to tell you that Sarah was also getting a puppy as a pet since she had just lost my Shane's half sister).  I kept watching this one little girl who had caught my eye. She came over to me and we played a bit, then she went over to Sarah  and picked up Sarah's big circle key ring (it had to be almost as big as she was), and with head held high trotted off across the yard with it. That was all I needed to see.  It was as if she was trying to get my attention and show me the future.   Sarah called to her.  She went back and Sarah began to  play with her.   I sat there with my heart pounding knowing I wanted this little girl so much, but was so afraid that Sarah also had decided upon her.  I still do not know where the courage came to give  voice to my want (God or my Guardian Angel gave it to me that day as I am one who will forego my choice  to let someone else have what they want–that day taught me it was okay to speak up for what I wanted) but I found myself suddenly, but quietly, asking Sarah if she minded if I took the little girl she was playing with. (The world stopped for me as I waited for her answer). Sarah said no of course not. I let out a big sigh of relief and could have cried on the spot. LOL
Now, you notice that there was no formal stacking on a table and going over structure like we are so prone to do today………which makes me wonder sometimes if choosing that special puppy is as difficult as we make it………….sometimes maybe that special puppy will show us who they are………….
We got back to RoseAnn's and we sat drinking our milkshakes we had stopped to get and had this little girl and her sister, whom Sarah had chosen, on the picnic table. Sarah had a name already but I hadn't a clue. Well leave it for my little girl to "choose" her own name, another sign of what was to come.  As we sat there she decided that she wanted to share in our shakes. She began kissing our faces to get any little drop she could.  We knew her registered name would be "Parkewood"…..something. I hadn't come up with an affix as yet so I decided to do what I had done with my second golden and pull the two call names of the parents together resulting in "Win-Taf" (for Winston and Taffy). So now we had "Parkewood's Win-Taf ——-. I said I wanted "gold" to be in there somewhere, so that is when RoseAnn said why not call her "Kiss 'O Gold", since she was giving everyone so many kisses. So she was now formally "Parkewood's Win-Taf Kiss 'O Gold".  "Kiss 'O" came to be "Kissa" as her call name which she lived up to until the day she left me.
That was the beginning of the first most wonderful 15 1/2 years of my life in dogs.
Kissa had a definite mind of her own.  Sometimes I think she would have been more aptly named, " Doing It My Way".  She very rarely ever came to me on the word (I don't use the word "comand" as no one EVER commanded Kissa–the Queen Bee! to do anything) "come" , but more often on the word "no".  I discovered this one day when she was young and went running to dive under the split rail fence as a truck was driving by. I kept yelling "come" to her and she just looked over her shoulder and kept going for the fence. Suddenly I yelled out "NO!" and she stopped, turned around just as it looked like her nose was about to make contact with the wheel of the truck, and came right back to me……with a "smile" upon her face!
A friend, years later, (she had her CH) said that she would put her CD on for me as well as her CDX (note: there is no CDX after her name).  Well…….we were at a show. Pam was showing her in obedience and I was taking her into conformation as a Special.  As I was walking by the obedience rings to check on where my ring was, I saw a large crowd had gathered around one ring in particular and were laughing so hard. I peered through some shoulders and saw a golden running around the ring having a super great time. I laughed and went on………………Guess whose golden that was……………..yes you guessed it…………….little miss " I am doing this my way" Kissa!! LOL) I was sooooooo glad that it was Pam in there and not me!! LOL   After that episode and when Pam finally got the last leg on Kissa's CD Pam told me she refused to try for the CDX………gee………I wonder why?! 🙂
These are just two of the many "surprises" that Kissa presented me with over her 15 1/2 years in my life.
Her show career started off with a bang just as everything in her life did.  Kissa was always intent that a judge not pass her by, win or lose.  She always made eye contact with a judge. It was uncanny.  It was as if she was trying to teach me some valuable lessons.  Her first shows were at the big 4 day Louisville shows…….like I said nothing small for this young lady. I had dislocated my right thumb so it was not exactly easy to stack her. I had also not trimmed all the fluff away from her ears ( hard to do when you are right-handed and it is all taped up). I had her in a very large American Bred class.  Long story short…..she won her class!!   Her next shows were in my hometown in Terre Haute. My parents, sister and young niece and nephew all came to watch.  Kissa did not disappoint. Not only did she win her class, but this time she took her first points as well. 🙂  We continued to show over the next year racking up points after points and yes even losing once in awhile.  We only had one more major to take  and so in December of that year (1983) I went with some friends up to the Chicago shows. I had a good feeling about this weeknd.  At the last minute one of the friends I was with asked me if I would show her boy in open dog….I thought about it a minute….he was naked as a jay bird and so felt ….okay….no problem……( fallicy number one about to be learned)……..long story short, again….I not only won open dog with him, I won his final points and his championship!!!  Well , as we all "know" a judge will not put up, or very rarely, the same handler in both open classes…..so I went into open bitch telling myself no way was he going to give it to Kissa not after what I had just done.  LESSON LEARNED FOLKS:  Not only was he going to give her the open class but the points he told me later!! But since I had talked myself out of them Kissa began to feel my dejection and stopped being the show girl, thinking "MOM" was displeased with her. Needless to say I was feeling really bad, so bad in fact that I didn't show again until a weekend right before the White River Specialty (March of 1984)…………..
White River Specialty…………..a weekend to remember…………74 bitches competing………..Kissa walks into the open bitch class……….at the head of the line. I do not think Arlene Thompson Brown ever saw Kissa with a straight topline. Kissa looked straight into her eyes as she was going over her. Then as Arlene began to go over the rest of the class, Kissa insisted on keeping eye contact with her. I struggled to keep her head facing forward, but it was not to be done.  Somehow Kissa knew this was her day.  As I look back on that day, as I have so often over the years, I remember a definite change came over Kissa.
***There were only four times in her entire career that she has shown like she did on this day. The first time was in Arkansas……when I had us stuck in the "dreaded corner". I willed the judge who passed us by to come back to look at her. She did and took a step back and took a long look before continuing on around the ring.  On the  L pattern as Kissa was coming back to the judge I heard the judge say,"  My, What a nice bitch!"  and we took the points. ***
Kissa won the large open class!!  We stayed in while the other class winners came in. You would have thought that Kissa would have been tired, but it seemed as if she was even more fired up.  She had a game plan and was intent on seein git through.  As we were coming back toward Arlene on the diagonal Kissa was reaching so far that I could barely keep up. But she knew her job and just as we got within three feet of the judge she self staked herself pretty as you please so that I could "pretend" to do my job! LOL   Arlene gave her the major!!!  I was beside myself with joy!! Arlen had just crowned my little girl who loved to give kisses with her championship………but that was not the end. Arlene was very kind to give Kissa a rest before Breed judging began.  Long story short………Kissa walked away with Best Opposite Sex over 74 bitches including a bitch special!!! Now that is the way to finish!!! **** Years later I was reading an interview with Arlene and the one thing that stood out to me was on how she decides on a winner……..she said in that article that when she goes into the ring she scans the class looking for the one dog/bitch in the class that all the others have to beat and then compares each dog/bitch in that class with her "chosen one".  I felt so good about this…Kissa had been her chosen one at White River and all others had been compared ot her. I was never so proud of Kissa, nor thankful for having her  in my life, and grateful that RoseAnn had "bred" her.***
The picture at the top is Kissa at 12 1/2 years of age. It was taken by Gloria Kerr at the Oklahoma National, where Kissa was known by nearly everyone as "THE VETERAN".  Wherever we went people would stop me to ask," Is this THE VETERAN?"  This show was the third place that Kissa went above and beyond to prove herself to the world.  Kissa won not only her Vet Sweeps class, but her Regular Vet class that day.  She was having such a good time (kicking up her heels on the go rounds) that the judge asked me to keep taking her for another go round!! She did so to the loud clapping and whistling of the spectators.   But she wasn't done yet.  She was entered in Brood Bitch class consisting of 12 other brood bitches. What was so unique about Kissa's entry was that her get were also veterans: Annie (owned by Dianne Barnes was 8 yrs of age) who had won her Veterans class and Tobey (my BIS  boy owned by my sister who was 10 yrs of age who placed second due to a last minute switch in his Veteran class and whom the AKC rep questioned as to the switch as he told me, after following Tobey and me back to the grooming area, he felt Tobey should have won his class). All other entries were youngsters.  Kissa did me proud once more by placing third in this very nice class. 🙂 It was even sweeter as she did so with veterans who showed the world that day what a quality breeding can stand the test of time.  This was indeed a national to remember!
The fourth, and final place where Kissa gave it her all was at the first St. Louis National.  It was a bittersweet time for me, as I had just lost her granddaughter Tahki, my specials bitch, a few months before unexpectedly.  Pat (Herschman of Camelot) sat with me as I cried watching the young veterans enter the ring, as Tahki was supposed to be in there with the others. Then it was time for Kissa to go in. So away went the tears replaced with a big smile for my very special girl.  Kissa was 15 1/2 yrs of age, but on that day, even though she moved a bit slower than the other younger girls, the reach and drive she was always, and will always be known for, was still eveident. The judge was so kind to allow her to sit and not have to go around numerous times out of respect for her age. She was ready to make her cut and as she was gettign down tot he last allowed she turned to the gallery and said in a loud voice that she knew she had reached her limit but there was no way that she could leave Kissa out. And so Kissa also made the final cut.  As I left the ring that day I stopped to speak to the judge. Through tears of joy I told asked the judge if she remembered my girl. She said no. So I preceded to remind her that she finished Kissa's championship 13 1/2 years prior at White River. Yes, Arlene Thompson Brown not only started Kissa on her specials career by finishing her championship but she now was ending her career officially with the cut at this National.  Arlen was crying, I was crying, and everyone within earshot were crying.  As we were taking pictures Arlene placed her sunglasses on Kissa's nose and told me she would purchase these pictures for me!  Now that is class!! A classy judge for a remarkable classy bitch!  Later that evening, at the Parade of Champions Kissa was given a standing ovation…….I cried and of course Kissa played to the audience. She was in her element……..the center of attention……….
Kissa will forever be the center of my world and the Heart and Soul of Quapaw.
Eight weeks later I said goodbye to her. Even now, through  tears that flow so easily once again, for her loss……for all the good times we had together………for the honor of her choosing me to be a part of her life and her mine………… for all that she has given me and continues to give to me through her kids, grandkids,  great grand kids, and beyond…………..
Thank you Kissa……..my once in a lifetime girl…….my heart and my soul.  I will never stop loving you or thinking about you.  You are too embedded into my life.
*************************************************************************
I want to thank you, the reader, for taking the time to read about this beautiful, wonderful girl called Kissa, the foundation of Quapaw.  I am not sure if I was able to overcome the impossible task of helping you to know her as I know her,  but hopefully you at least have the essence of who she is, thereby  know who and what Quapaw is about, and the person  Kissa created in  me.
For a full pedigree on Kissa please click onto the link to her page on k9data:
Pedigree of "Am Ch Parkewood's Win-Taf Kiss O' Gold, CD, OD"

Parents
GrandParents
GreatGrandParents
SIRE

Am Ch Parkewood's Sir Winston     

Parkewood's Sir Percival, Am Can CD

 Misty of Birnam Wood
Sun Dance's Poia, Am CD
Princess Ginger VIII
Martrindale's Ramblin' Rocket, Am CD
Martindale's Spicy Ginger

DAM

Parkewood's Taffy

Am Ch Spannen's Haymaker, Am CD
Am Ch Trigger's Royal Diamond, Am CDX *** OS
Am Ch Duckdown's Tiffany Tomboy, OD
Parkewood's Auburn Girl
Parkewood's Sir Percival, Am CD
Sun Dance's Gypsy, Am CD