Presents
Canadian CH Quapaw's Believe 'N Miracles
Sire: Quapaw's Impressive Endeavor
Dam: One Ash Heaven Help Us
Whelped: 8-24-2000
OFA: Good Eyes:cleared Heart: cardiologist cleared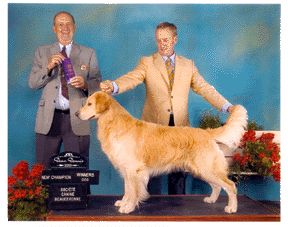 Brent
Achievements:
 

Brent is named in honor of Elaine and Max Brent of One Ash  because of their generosity of heart in loaning me Brent's dam, Ditto, when I needed a helping hand.  Brent is very much his daddy's kid in all respects : temperament,structure, movement, and progeny.
Brent is co-owned with Jim and Judy Stewart of Blueheron in Perth, Canada where he resides. It was a very difficult decision to let him go, but  at the time I weighed the pros and the cons, and as much as I miss him, especially with the passing of his sire, Devon, November of 2006, overall it has been the best decision for not only him, but for Quapaw, and for Blueheron.
Jim and Judy have been  a dream to work with. They have put Brent's Canadain Championship on him and he is now a certified therapy dog in Canada, having recently been publically recognized as  having completed over 50 visitations and excelling in this new career. I couldn't be more happy or proud of this boy.  At this updating (6-12-2008) Brent is making ready to pass his Reader Dog test. If so he will be going into the school system, assisting children in increasing their reading skills. This is a joy to me as I am a special education teacher.
Brent has sired some very lovely offspring (not only as companions but also for hunting and obedience work) which  you can see by clicking onto "more pictures", along with more informal ones of Brent.
Thank you,  Jim and Judy, so much for all that you have done for Brent and Quapaw. I am greatly in your debt and deeply appreciative.
Brent is sadly no longer available for stud service via fresh or frozen.  Judy and I were forced to make the decision to have him altered in order to save his life. He had an enlarged prostrate that, thank goodness, was not cancereous, yet it left him very ill.
For Brent's full pedigree please click onto the following link to his k9data page:
Pedigree of "Canadian CH Quapaw's Believe 'N Miracles"

Parents
GrandParents
GreatGrandParents
SIRE

Quapaw's Impressive Endeavor     

Am.Can.CH Stoneleath Larkspur CDX WC OS(BIS/BISS, HIT)

 AmCanCH Suttercreek Tessahoc Tigger amCan CD
CanCH Stoneleath Kiss Me Kate Can CD WC, Am CD
Quapaw's I Be A Kathouse Mouse CD
Stolford Flint ( Eng. Import)
Quapaw's Touch The Earth ( ptd)

DAM

One Ash Heaven Help Us

CanCH One Ash Braecon Beacons
CanBdaCH Mjaerumhogda's Kyon Flying Surprise Can CDX
CanCH Camrose In One Ash AmCan CDX
Camrose Olivia
Mjaerumhogda's Thor To Camrose
Ranchenco Bonilass of Camrose