Introducing: "Percy" aka Quapaw's Fire N Rain (O'Ryan x 'Retha – our Gabe daughter) and Mali Redick of Anchorage, Alaska.  On 12/27/2013, with the passing of the Public Access Test, "Percy"  earned his official title of Service Dog for Mali.  We are so very proud of them.
Mali chose to train "Percy" herself due to her unique challenges with the guidance of the Alaska Assistance Dogs trainers. Mali chose to share her training of "Percy" via a series of you tube videos entitled maliandpercy. The link is below.
I knew "Percy" was one very special puppy and so kept waiting and waiting for that special person to come along………….and she did!  Now our very special and unique puppy has a very special and unique job helping a very special young woman way up north!!! 🙂
We look forward to sharing this special relationship. Mali ..the world is now your oyster……go forth and enjoy it with your special friend, "Percy". 🙂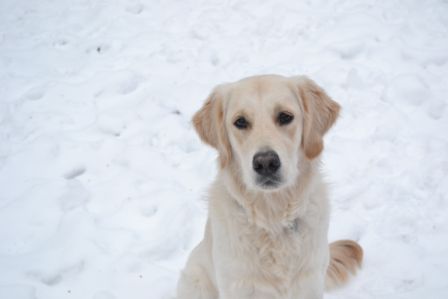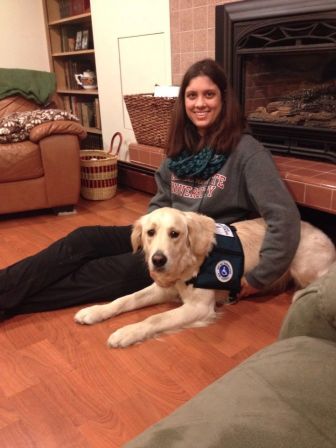 This photo was taken on 12/27/2013 shortly after "Percy" passed the final test.
Here is the link to Mali and Percy's training videos.
http://www.youtube.com/channel/UC9_V-jw71GVXjXqmSmGlhDg
---
***
 

Quapaw-Fairlea B-Lieve N Avaln,

 

"Guinevere,"

 

was the model for Joy's

 

sculpture below. Guin

 

is from the

 

"Believe"

 

litter:

 

Quapaw's Impressive

 

Endeavor "Devon"x One Ash Heaven Help Us

 

"Ditto" ***
Bronze Sculpture: Three Faces of Guinevere
14″ Diameter x 19 1/2″H ~ Bronze ~ Mahogany Base
Edition of 20 & 2 Artist's Proofs ~ © 2001
In October 2000, I walked my dachshunds, Lizzie and Edgar, in the neighborhood. We stopped to see our neighbor, Joanlee Ferarra, and her two-month-old Golden Retriever puppy, Guinevere. I'd never wanted to sculpt a fluffy dog, but Guinevere was absolutely adorable. She won my heart with her eyelashes: they wouldn't stop.

In December, I mustered the nerve to ask Joanlee if I could work on a clay sculpture of Guinevere in her kitchen. She said yes, but my, how Guinevere had grown! Suddenly I had a new goal. I would create a three-in-one puppy portrait. It would range in age from two months to eight months! I redesigned the armature and quickly created the four month portrait. Then, I blocked in the younger and the older heads and waited for Guinevere to grow.

When I returned in April to complete the largest head, I could not believe how much Guinevere had grown. Her head was an inch longer than I had blocked in. Because I didn't live with Guinevere, I used photos for reference, but it was great to have Guinevere for life studies for the four month and the eight month portraits. Finally, I completed the youngest puppy from memory and Joanlee's marvelous photos.

Three Faces of Guinevere is mounted on a handmade, rotating bronze and mahogany base. Because the arc is hand-forged, each will vary slightly in height. Each Three Faces of Guinevere is signed, numbered and includes my mark,

 

. A Certificate of Authenticity is included. Enjoy!
| | |
| --- | --- |
| | |