Presents
International Sh CH Swanavly San Gabriel D'Quapaw
Sire: Multi-CH Ritzilyn Chancellor (Hogar)
Dam: Int.CH Deerfold Silver Promise ( Vicky)
Whelped: July 22, 2001
Hips:OFA "Excellent" Elbows: "Normal" Eyes: Cleared annually Thyroid: Clear Heart: Cardiologist cleared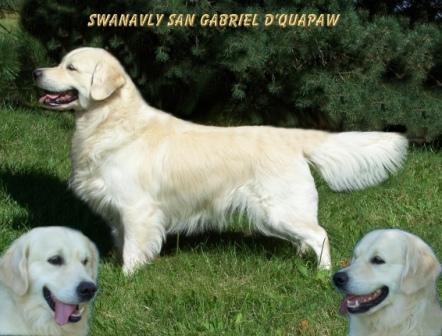 Gabe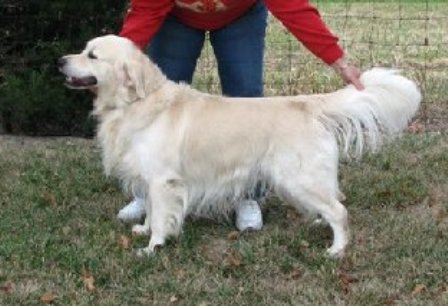 Gabe taken 10-2007 at 6 years of age
Achievements:
 

I waited a very long time for Gabe to come my way. He did so with the help of  Silvana Vuckovic and her husband, Vladamir,  of Swanavly  Golden Retrievers in Yugoslavia/Serbia.   Gabe was the pick male from Vicky's first breeding.   Gabe is literally a dream come true, thanks to my sister, Sharon.   Gabe was to fly out of Germany the weekend of 911 and when the world came crashing down that day I was  not only heartbroken for all those lives who were lost, but also feared that I would be unable to ever hold my Gabe in my arms.  In the end, we did not have as long to wait as we first thought. He came to me two weeks later. My friends Suzie and Barb drove with me to the International Airport in Chicago. We got there so early ( I didn't want him waiting on me) that we had over 2 hours to wait.  Every time a plane flew in both these wonderful friends had to calm me down.LOL  Finally his flight arrived.  Knowing he was sitting in a crate for the first time in his life in a noisy, echoing building while businessmen were in line in front of me to get their inanimate packages was unthinkable! So one by one I approached this line of men and pleaded my case and one by one they all were very kind to allow me to get in front of them. (Oh , I guess I should mention that as a token of my gratitude  for their kindness I offered each a kiss on the cheek, which was not turned down! LOL  Hey, a girl has to do what a girl has to do to get her puppy!! )
Gabe has been a great addition to Quapaw. He is sweet of temperament and his structure is to die for, as you can see. He is athletic, proving this time and again,  whether by sailing over a row of 3 dogs standing side by side without missing a beat, or by jumping through a 1 foot opening he had created in the chicken wire covering in an opening in the 4 1/2 foot high farm gate to the dog yard.  I really should start him in obedience and agility.   He can usually be seen carrying his stuffed panda bear around the house.
Gabe completed his International Championship in November of 2006 with ease.  He  was the only dog of pure English/European lines to make the cut in a very large showing of open dogs at the White River GRC Specialty May of 2007.   Gabe will be shown will continue to be shown on a very limited basis, mainly at specialties.
I feel that Gabe has quite a bit to offer not only those breeders and lines of English origin, but also many American lines and crossover lines, as well.  Gabe has begun to prove his worth as a sire. He consistently throws, not only his structure, temperament, intelligence, and athleticism, but also some of his little quirks, such as somersaulting and pretending he is an otter in the water floating on his back while playing with his toys.  He has one daughter, Ember, in training as a service dog as well as a sniffer dog and upon gaining her clearances will also become the foundation dam of a service organization, specifically geared toward children. Another daughter, Misty, has now completed her National/International and UKC Championship titles complete with a BIS puppy award. He has a son in Canada, Jackson, that is just 4 points shy of obtaining his Canadian CH who has also earned Best Breed Puppy along the way. Jackson will also be going for both his agility and obedience titles as he works to complete his Canadian CH.  Jackson is at stud to approved bitches. Please check his own page out on this site. Gabe has several other offspring waiting in the wings. He is consistently proving to be a hip improver like his siblings in Europe. Several of his offspring now sport OFA Excellents and Goods.
Gabe is not alone in the kind of offspring that he is producing. Instead he is following in the paw prints of his siblings and half siblings who have also proven themselves both in the rings as well as in the whelping boxes.  They achieved  European International Championship status as well as their get.  I expect Gabe's offspring to continue to make their marks in the rings, as service and therapy dogs, as well as the performance areas.
Thank you from the bottom of my heart Silvana, Vladamir, Vicky, Sandy, and Hogar for this wonderful breeding and this wonderful boy. I don't think my life would be complete without him.
Gabe is available to approved bitches via fresh or fresh -chilled and frozen in very specific cases, as well. To see Gabe's complete pedigree please click onto the link to his page on k9data:
   Thank you Suzi for all the great pictures of Gabe. 🙂
Pedigree of "International Sh CH Swanavly San Gabriel D'Quapaw"

Parents
GrandParents
GreatGrandParents
SIRE

Multi-CH Ritzilyn Chancellor (Hogar)     

Kimwhany O'Rourke of Ritzilyn

 CH. Ritzilyn Cockney Robin
Sh.CH. Kimwhany Next Step
CH.Riztilyn Flibbertigibbet
CH Ritzilyn Barrow Boy
Ritzilyn Maid of Honour

DAM

Int.CH Deerfold Silver Promise ( Vicky)

Eng.CH Severy Bartholomew of Westley
Rambleyne Dominic of Westley
Westley Garrya of Severy
Tilldawn Mystery Entertainer
Sh CH Janward Entertainer
Shanlimore Celebrity at Tilldawn
Gallery for International Sh Ch Swanavly San Gabriel d'Quapaw