Presents
Quapaw's Impressive Endeavor
Sire: AmCanCH Stoneleath Larkspur CDX WC OS(Multi-BIS/BISS, HIT)
Dam: Quapaw's I Be A Kathouse Mouse CD
Whelped: January 3, 1994 – October 3, 2006
OFA:Good * Eyes: Ophamologist cleared *Heart: Cardiologist Cleared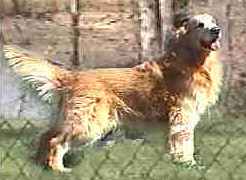 Devon
Achievements:
 

Devon came out of the last litter to be sired by "Teddy".  I have included pictures of his sire (click onto "more pictures") because as Pam Tillotson-DeRosier stated, Devon was his sire in so many ways. Devon was the brother of Nancy Talbott's "Ohso" (Quapaw's Ohso Impressive WC — multi- major pointed), which I also have included in my Memories page.  These two boys were fantabulous and so similar in their ways. Nancy and I used to laugh about some of their antics in the ring, in particular their similar stacking styles that we had to contend with.
I knew that "Teddy" was going to give me back some things that I had "lost" in an earlier breeding when I first got started. I was right!  The combination of my bitch line to him returned to me my strong return of upper arm  and length as well as shoulder layback, with rear angles to match.
Devon was shown by me very sparingly, due to some physical limitations on my part (which years later a chiropractor rectified) and always in Bred-By as I was, and still am, very proud of him. I decided the Fall of 2005 that I was going to start entering Devon in specialties as a Veteran. I chose to begin with the May 2006 WRGRC Specialty. Little did I know that not only would this be his first show as a veteran, sadly it would be his last, as well. He made me proud to be his breeder and proud that he wore Quapaw as his banner.  He was given first place by the  judge who, as I had been watching all day, was looking and putting up dogs and bitches with strong fronts and rears. As he went over Devon he ran his hands down his shoulders into his upper arm. When he approached the elbow he tried to put his fingers between it and his  rib cage. I knew he would not be able to, and he was not. He took a step back and looked at both boys once again and came back to Devon. I knew, and Devon seemed to know as well, that we had what he was searching for, and pushed himself even further into his front. 🙂 When the judge gave him the nod I couldn't stop crying.  This win was a moment of truth for me and Quapaw.  You see, I had not shown  more than a handful of times since losing my sister and my husband 8 years earlier, and in doing so had all but lost the majority of faith and confidence I had in myself,  as well as a breeder.  But at that moment I gained my confidence back not only in myself, but also in judging, and my breeding program that I had worked so hard to establish and maintain over the years.  I knew, then,  that Quapaw,  and I  were on the road to recovery.
Devon was only bred three times in his lifetime, by myself, and two other breeders who searched him out, as I have never been one to "push" my dogs into the stud dog limelight.  With this in mind, I had Devon's semen frozen.  I have a very limited supply, therefore, he will be offered  very sparingly to only a very select few bitches who can match him in his qualities and pedigree, as well as bring to the table additional strengths. It is very important to me to have access to his lines for years to come.
*** Tentative plans are in the making for a breeding to one of my girls in the next 5 years.  If you are a breeder and/or an admirer of Devon or his lines and would be interested in knowing when this breeding takes place please let me know and I will place your name on the litter list. ***
When you click onto "more pictures" you will see his last show pictures at the WRGRC Specialty as well as some of his favorite things to do……swimming, for one, how he loved it.. He used to spend hours  in the pond out back when we lived in Missouri. He also enjoyed recreating the "Grand Canyon" in the dog yard, as well as other excavations, using the excuse of mole catching when caught in the act. 🙂
I miss you Devvy. You were truly a gentleman in every sense of the word. You were such a gentle soul to everyone you met, male, female, two-legged or four. Both Smokey Joe and Salem (Quapaw cats) loved to cuddle up with him. Dev loved his toys as well. He was a gatherer. He was always going from room to room seeking and finding anything from clothing to toys to add to his pile of treasures.  He lived to be loved and I did very much. How I miss your hugs.
Thank you , Diane Parttington of Stoneleath in Canada , for allowing me to breed "Mouse" to "Teddy".  It was one of the best decisions in breeding I have ever made. 🙂
For full pedigree click onto the link to Devon's k9data page:
Pedigree of "Quapaw's Impressive Endeavor"

Parents
GrandParents
GreatGrandParents
SIRE

AmCanCH Stoneleath Larkspur CDX WC OS(Multi-BIS/BISS, HIT)     

AmCanCH Suttercreek Tessahoc Tigger AmCan CD

 AmCH Alstone Suttercreek Charade UD WC (Obed HOF)
AmCH Fox Rock Suttercreek Ulanda
CanCH Stoneleath Kiss Me Kate Can CD WC, Am CD
CanCH Golden Kin's Sir Brutus
Cidor Kelly of Windcrest

DAM

Quapaw's I Be A Kathouse Mouse CD

Stolford Flint (Eng. Import)
Lucky Strike of Stolford
Stolford Medeira
Quapaw's Touch The Earth (ptd)
AmCH Wingsong Maker's Mark OS (Multi-BIS, SDHOF)
AmCH Parkewood's Win-Taf O'Gold CD OD (Multi-Grp placer/Quapaw's foundation dam)
Gallery for Quapaw's Impressive Endeavor