Presents
Aus., UKC, Can. CH Camelot Quapaw's To Oz & Back
Sire: Camelot's Hearts A Fire
Dam: Camelot's Okeechobee Intoxication CCA
Whelped: January 24 , 2005
Hips: scored 11/Aussie system Eyes: Cerfed Heart: Cardiologist cleared 2/2010 Elbows: scored 0/Aussie System
Simon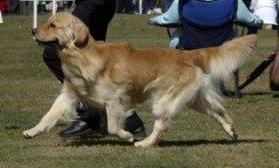 Simon on the move
Achievements:
 

UPDATE: 10/2011
***Simon now has 9 points with a 5pt major towards his AKC championship! He just completed his Canadian CH with Graeme Burdon in Canada. He did so entered in 5 shows back to back taking BOB at each show taking his CH with a Group 4!! We are proud of you! ***
Simon came to me unexpectedly at the age of 8 weeks. He was headed to Australia and I offered to keep him with me until he needed to leave the country.  Knowing he was not to stay, I "steeled" myself to not fall in love with Simon.  Then one day, two months into his stay, I got a call from his breeder, and long time friend, Pat Herschman of Camelot (NJ), that there had been a partial change in plans  for ownership  in Australia and wanted to know if I would like to co-own Simon with her. How could I refuse? After all, this boy was double line bred on my foundation dam,  Kissa. 🙂  So, now I could let my heart become his.  We attended only one match ( he was barely 8 mos) while he was with me, but what an eye opener it was. No, he did not win, more importantly he demonstrated what he was made of.  Now mind you,  I had not really done a lot of work with him. In fact, I was doing everything I could not to become overly frustrated in walking to the ring, as he was all over the place. Boy, did he ever give me a pleasant surprise, along with  lots of goosebumps.  He walked into the ring as if he owned it. He stacked as if he knew what he was doing, and finally, on the go rounds, he FLOATED like an old pro!!!!  My mouth literally dropped open. I couldn't wait to get him home so that I could contact both Pat and Anthea ( Wysiwyg) Adamopoulas to let them know the jewel we had!!
 Simon is now co-owned with Pat, along with Anthea, who had him in Oz on a lease agreement. Anthea returned him to me and Pat September of 2008 personally. I drove 15 hours straight, with the assistance of my dear friend Suzi Houtz, through to RI to the National Specialty to collect him. Thank you to both Pat and Anthea for this dream come true. 🙂 Thank you Anthea for all you did for Simon and for the great care you took of him.
Simon proved his worth not only in the ring by obtaining his Australian Championship (100 pts needed) in less than 7 months (12 shows) at the tender age of 21 months with 5 BOBs, but continued his winning ways by garnishing well over 400 points in very limited showing, towards his Australian Grand Championship (1000 pts needed).  While in Australia he sired babies that have multiple Best Puppy in Shows and higher placements in their classes, as well as Australian CH titles.  In 2007 two of his young daughters were ranked in the Top Twenty Puppies in Australia!! 🙂  We are very excited  both with his show career in  OZ as well as the fact that he has proved himself to be a very prepotent sire. For more pictures of Simon and his Aussie offspring, as well as his Stateside offspring, click onto "more pictures".
       2006 accomplishments (Australia):
                *ended the year ranked 29th
                * CC's won:  6
                * BOB's won:  5
                *Group wins: 0
                *Total points earned: 103
       2007 accomplishments to date (Australia):  (as of Nov 10, 2007 )
                *currently ranked 10th in very limited showing
                * CC's won:  11 (with 1 CC being a Royal CC)
                * BOB's won:  7
                * Group wins:  1
                *Total points earned:  171 and counting (total to date towards Grand CH = 274)
2008 accomplishments (Australia):
* ranked #4 in very limited showing August 2008
* earned a coveted Reserve BIS August at his last show before returning to the States in September
* 2008 ranking #6:dropping only two places after leaving for the States
* CC's won:  12
* BOB's won: 8
* Group wins:  1
* Total points earned: 475 toward his Grand Championship
Simon is currently living with his breeder and co-owner Pat Herschman in Glassboro, NJ.  He is continuing to prove his ability to sire outstanding get here in the States.  I have a beautiful bitch, "Simone", namesake of her sire, "Quapaw Simon Sez Kiss Me First"CCA, who made her debue in the ring with me Spring of 2010 in the bred by class.  She did quite well with her second outing placing her second in a class of 5 in Columbus, IN.
Simon is available to approved bitches through fresh, fresh-chilled, and natural semen at this time.
Simon breedings:
**** bred to Ceallaighs Kendall Breaburn  (owned by Meg Wilson of NH and Long Island, NY). Meg Wilson  1-516-996-261.  August 2010.****
**** bred also to Okeechobee's It's Camelot Once More, CCA (owned by Pat Hershman 1-856-307-7396) July 2010.****
** check with Pat for the most recent breeding plans for Simon as I do not keep this website as updated as I should. ;-( LOL
For full pedigree on Simon click onto his the link to his k9data page:
Pedigree of "Aus., UKC, Can. CH Camelot Quapaw's To Oz & Back"

Parents
GrandParents
GreatGrandParents
SIRE

Camelot's Hearts A Fire     

Camelot's Guilty By Association

 Quapaw's I Be Bad
Camelot's Speaker of the House
Camelot's Rumour Has It CCA
Am.CH Pond House Mr. Roberts OS
Camelot's Ivyhill One Mo' Time

DAM

Camelot's Okeechobee Intoxication CCA

Camelot's Gulity By Association
Quapaw's I Be Bad
Camelot's Speaker of the House
Okeechobee's Almost Easter
Mex. CH Okeechobee's Timothy McNichol
Goldhaven Return to Okeechobee
Gallery for Aus., UKC, Can. CH Camelot Quapaw's To Oz & Back